criggie.org.nz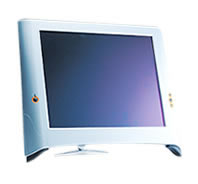 NESO LD500V 15" LCD Monitor
Technical Information
I recently acquired a bunch of these monitors.
Promo Photographs



Real Photographs







Features
Optional multi-layer, scratch proof glass filter The LD 500V come optionally with a specially formulated, multi-layered glass filter to protect the LCD screen and enhance viewer comfort. The glass filter is highly resistive to scratches or other damage when touched by foreign objects.
Low power consumption Consumes only 35 watts of power during normal operation and under 3 watts in standby mode.
Wide viewing angles Clear viewing through a 120X range horizontally and vertically.
PC and Mac compatible Works with both PCs and Macintosh computers.
Specifications
Display Type:
15" TFT Colour LCD Panel
Pixel Pitch:
0.297 mm x 0.297 mm
Display Colors:
262,144 colors
Viewing Angle:
Horizontal: 120 degrees
Vertical: 100 degrees
Horizontal Frequency:
30
Vertical Frequency:
56
Brightness:
300 cd/m2 (typical)
Contrast Ratio:
350:1 (typical)
Input Signal:
RGB Analog
Input Connectors:
15-pin mini D-sub
Display Size:
304 x 228 mm
Recommended Resolution:
1024 x 768
Plug & Play Support:
VESA DDC 1/2B
Front-Panel User Control:
Power, Enter, + (Auto), - (Mute)
OSD Adjustment:
Brightness, Contrast, H/V-position, Clock, Phase, Color Temperature (6500/9300/User), Language (English, French, Italian, German, Spanish, Japanese, Simplified Chinese), Volume, Recall, Auto, Mute
Safety Approvals:
UL, cUL, GS, CCC Emissions Approvals: FCC, CE, VCCI, BSMI, MPR II, TCO
Power Consumption:
Operation: < 40 watts Suspend: < 6 watts Active off: 4 watts
Audio Input/Output:
Stereo mini-jack
Weight:
Gross: 4.0 KGs Net: 3.4 KGs
Dimensions:
414 mm (W) x 330 mm (H) x 74 mm (D)
Links
Downloads

Please use the primary link first - only use the last resort link if the primary isn't working.

---

This file last modified Wednesday May 31, 2006


If you find something here useful, feel free to donate bitcoin: Donations address: 14LHst9s1UEh8NMem87qaEd9tJWSCiNt1x

.