criggie.org.nz
Atari Portfolio
Palmtop PC
80186 16 bit CPU
Comes with serial port module (rrp $199 at DSE) and slave software on card.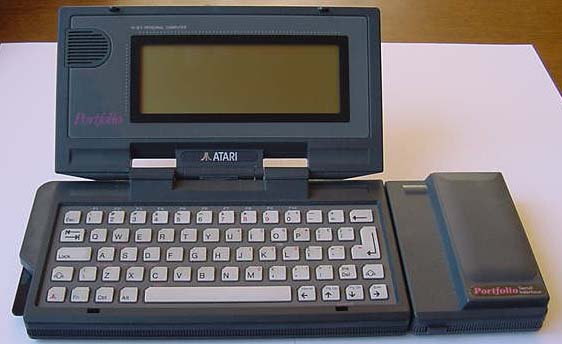 Portfolio, open with serial module attached.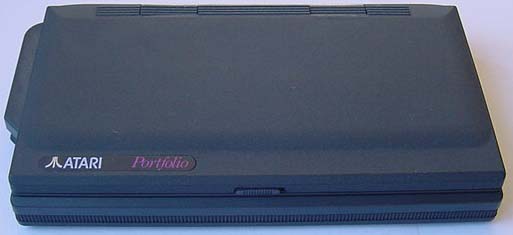 Closed.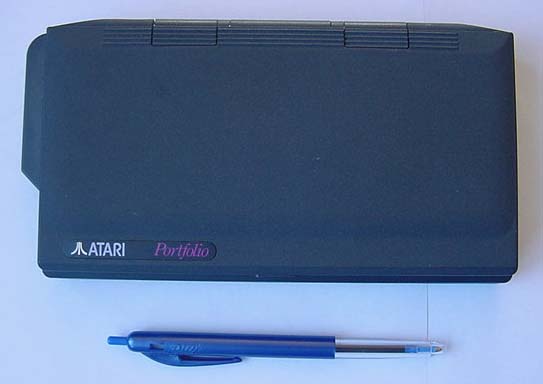 Closed, top view.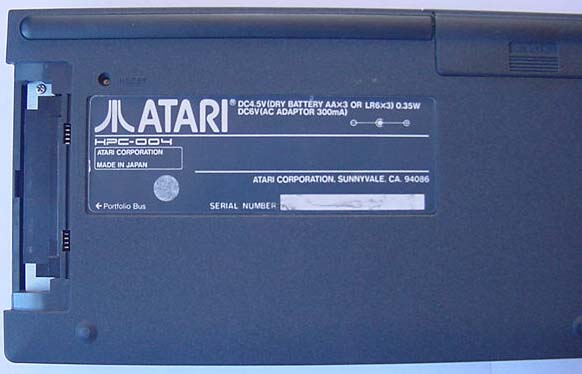 Underside, shows label and expansion bus connector.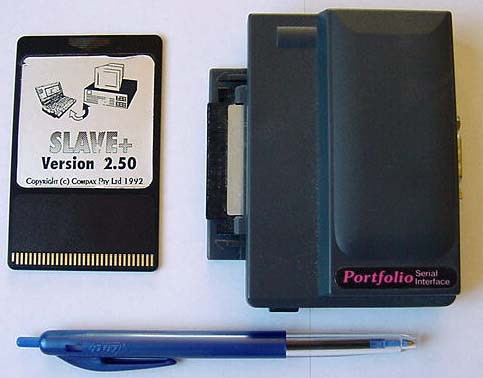 Slave card and Serial port.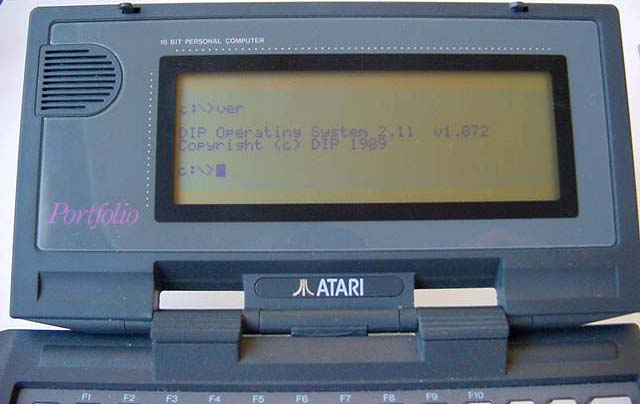 DIP DOS ver command.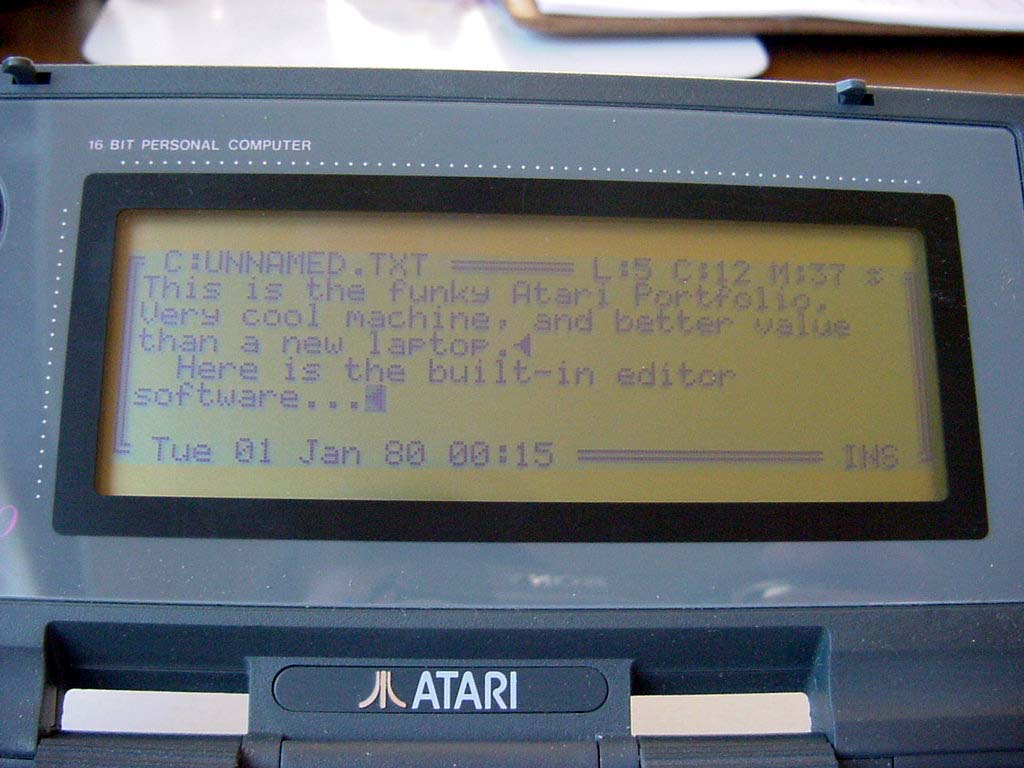 Editor.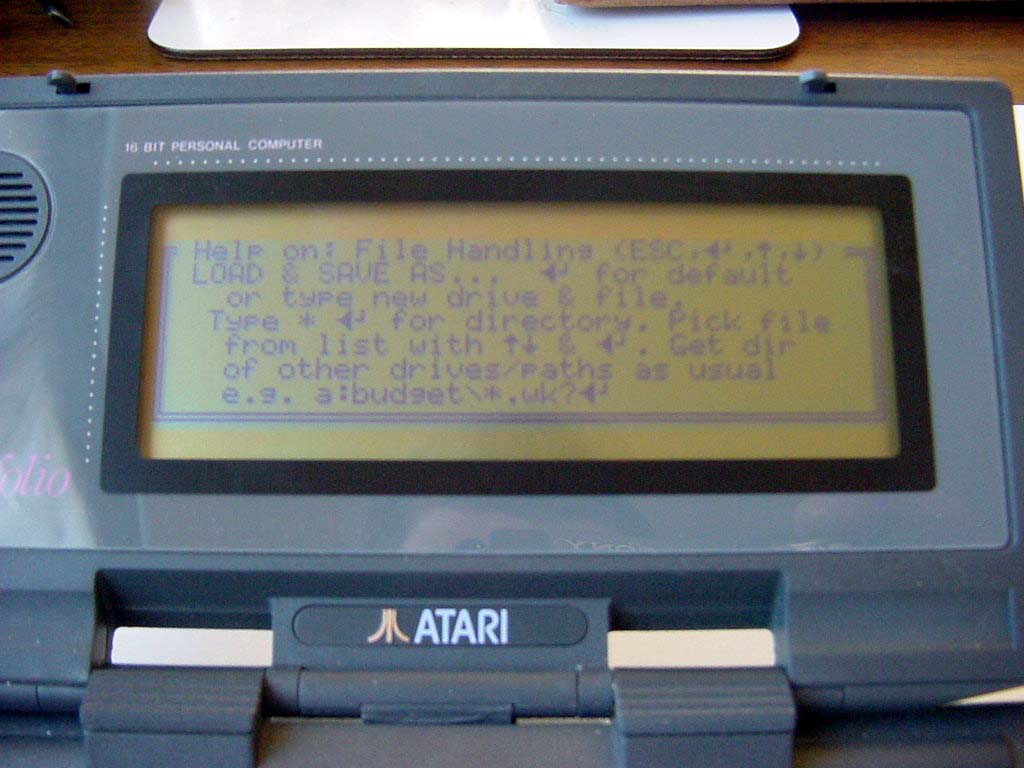 Online help screens for built-in apps.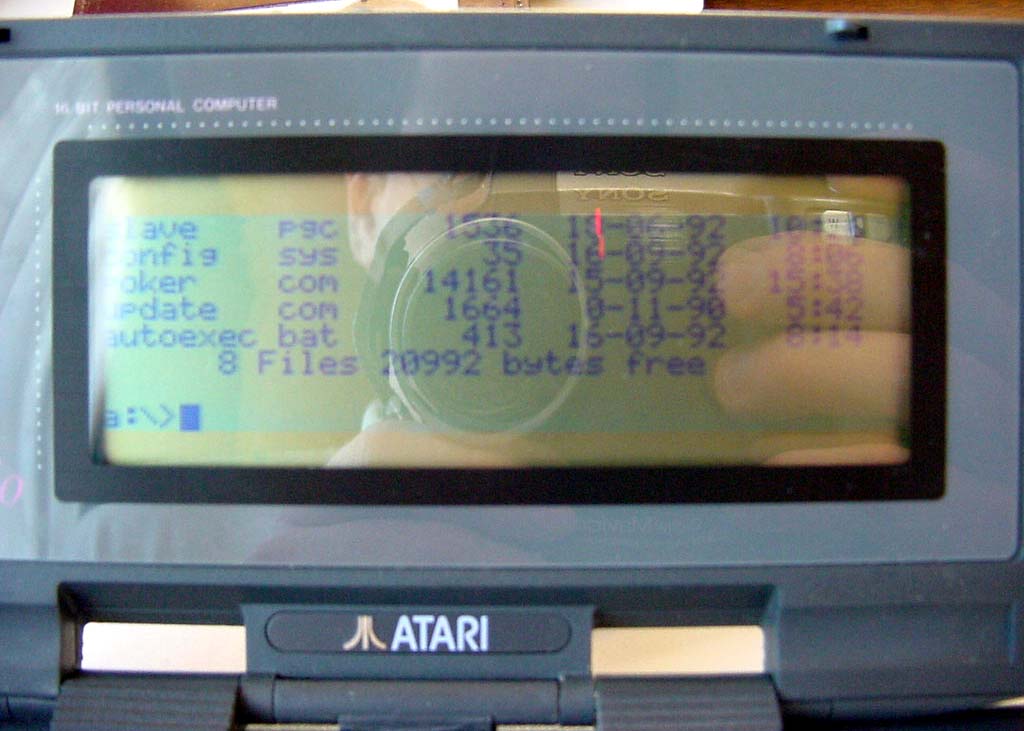 dir a: (scuse the reflections!).

TECHNICAL SPECIFICATION
Processor 80C88, 4.9152 MHz Clock Speed
Memory 128KB internal RAM Includes internal configurable RAM disk (C:) 256KB ROM contains applications software
Dimensions Length 200 mm, Width 100 mm, Depth 28 mm
Weighs less than 1lb (454g) excluding batteries
Display High contrast Liquid Crystal Display (LCD) 240 x 64 graphics screen or 40 characters X 8 lines Monochrome (MDA) emulation
Keyboard 63 keys, QWERTY layout. Hot-key access to built-in applications
Input/Output

Memory card slot with optional PCMCIA adaptor
60-pin expansion BUS for optional peripherals
Built-in speaker with tone dialling (DTMF)

Power 3 x AA size removable alkaline batteries. Memory preserved during battery changes. Optional AC mains adaptor
BUILT-IN SOFTWARE
System DIP DOS 2.11 (MS-DOS & PC BIOS compatible) Software runs from ROM, leaving RAM free
Text Processor Comprehensive, easy to use text and memo editor with wordwrap, line and column count, search & replace. Handles printer and word processor control codes.
Address And Phone Book. Card index with phone list and detailed records. Automatic tone dialling of telephone numbers. Entries are sorted and can be selected by category
Spreadsheet Accommodates spreadsheet of 255 rows x 127 cols. Reads and writes Lotus 1-2-3 files (.WKS). Built-in 1-2-3 functions eg @SUM, @IF, @NPV
Time Manager Comprehensive calendar and diary to the year 2049 Wake-up alarms even when the Pocket PC is off. Entries can be repeated each day/week/month/year.
LINKS
The Umich Portfolio Apps Archive
Atari Portfolio UK site
Serial transfer Files
Downloads section from the Atari Portfolio UK site
German site of Portfolio software

---
This file last modified Wednesday May 31, 2006

If you find something here useful, feel free to donate bitcoin: Donations address: 14LHst9s1UEh8NMem87qaEd9tJWSCiNt1x
.