criggie.org.nz
Camshot Camera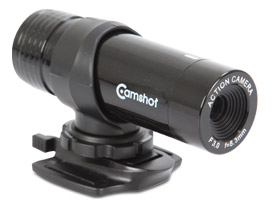 Cyclist's camera - suitable for helmet or handlebars.
"Rated" as totally waterproof... haven't tested this.
Comes with 64 MB onboard ram - good enough for 2 minutes recording.
Can take a micro SD card of up to 8 GB
Can take 640x480 AVI video or 320x240 AVI video. Cannot do still photos.
I found its uses less space at 640x480 than it does at 320x240.
Internal battery lasts about 1 hour 45 minutes
you can't record while charging / you cannot record while its connected to USB
Has an internal microphone - but its under the cap and cannot hear anything less than a tap on the casing. Useless feature.
Comes with a handlebar mount, and a set of velcro straps and socket for mounting on a helmet.
The USB connector is a standard mini-B connctor, and runs at USB2 which is fast enough for playback at normal speed. However pulling the microSD card out and using an external card reader makes it read four times faster.
Exhibits some serious tearing when turning your head.
Pretty useless in the dark.
View angle is about 45 degrees, so its not a wide view. When cycling, a lot of things happen beside or behind you - this won't show it.
Samples
Ring Road
This one has been sped up to make it less boring. Recorded at ~50 then 80 km/h from the landy's dashboard. Was recorded in 640x480

Australian Cyclist
I didn't do this one - its a handlebar view of a bike ride, probably from NSW Australia. This one's been done in QVGA iwhich is 320x240.

Links
Came from Torpedo7's cut price outlet One Day for around $70 NZ.
Plans
We tried attaching this camera to the boy's kite, but it was too heavy. So we've made a sodding massive kite, just waiting for a nice windy day. The plan is to set the camera recording, then send it up into the sky. We'll put the footage here when that's happened.
Final thoughts

++ Its a cool toy.
-- You will need a memory card
++ Its not so expensive you'll baby it
++ Versatile
-- Not wideangle
-- No battery or disk free status


---
This file last modified Sunday December 12, 2010

If you find something here useful, feel free to donate bitcoin: Donations address: 14LHst9s1UEh8NMem87qaEd9tJWSCiNt1x
.